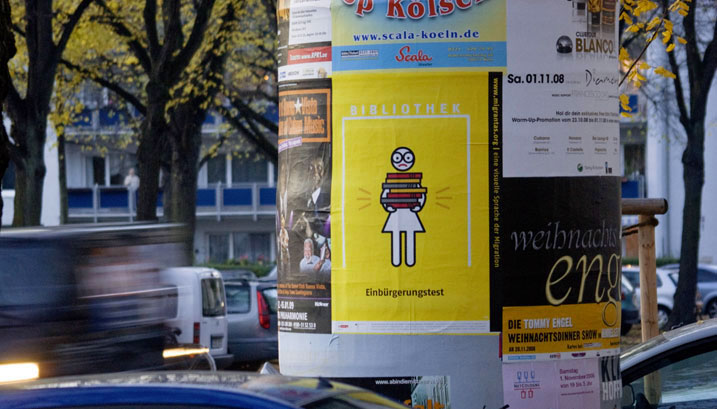 2008 | Bundesmigrantinnen | Cologne

2006 | Bilder bewegen II | Berlin

Projects | For more information, please click on the titles.

2014 | Die Stimmen der Bilder | Berlin
How multicultural is Berlin? How charming is Berlin? How tolerant is Berlin? And what´s the word on the street? Voices of images (Die Stimmen der Bilder) is a participatory project in urban areas of Berlin.From July 21, 2014 to August 10, 2014 large-format banners with pictograms by migrantas will be on display at five locations in Berlin. The empty speech bubbles on the banners provide people in Berlin with the space to answer these questions. The results of this urban action will be shown as part of an exhibition held on International Human Rights Day on December 10, 2014.
2014 | Zusammensein - Bilder der Vielfalt | Berlin
Togheter - Images of Diversity. A Project from migrantas and Book your Story!. In collaboration with Instituto Cervantes Berlin, HausRadio and Radio Europe-Estacion Sur. In cooperation with: Joan Miro Grundschule. Funding: Berliner Projektfonds Kulturelle Bildung.
more
2013 | Berufsanerkennung | Hamburg
Workshops about the professional recognition with the following associations: Colon Language Center and Verikom e.V. A serie of 10 pictograms was developed and exhibited from 28.03 to 22.04.2014 at Elbcampus Kompetenzzentrum Handwerkskammer. Urban actions: Selecction of 4 pictograms were put up in 70 of Hamburg´s underground stations and on around 200 columns throughout the city with a free cards campaign. A project in cooperation with IQ Network Hamburg-Nobi and the Förderprogram IQ.
more | more

2013 | Pictograms in urban space - Recognition & Visibility | Salzburg
Artistic interventions - collaborative and self-organized practices.
Workshop-Objectives: Stimulate the discussion in the public space, create attention and awareness in the society. Participants : Maria Anastassopolous, Veronika Aqra, Eva Beneder, Elisbeth Eder, Abdirizak Farhan, Ali Hasan, Nora Moritz, Viktoriia Nasibullina, Julian Radam, Elisabeth Sturm, Florian Uibner, Jana Winkelmayer. Exhibition: 39 Drawings from all the participants, serie of 6 pictograms, the published posters and visual impressions of the project. Action: What: Distributed 150 bags with the printed-pictograms. Where: Schloß Mirabell. When: 11 October. Programmbereich Contemporary Arts & Cultural Production, Schwerpunkt Wissenschaft & Kunst, Universität Salzburg in Kooperation mit Universität Mozarteum. www.w-k.sbg.ac.at/conart
2013 | Bundesmigrantinnen- Bilder der Migration im öffentlichen Raum | Berlin
Since February 2013. Workshops held during February and April with the following associations: Xochicuicatl e.V., Treff- und Informationsort für Migrantinnen (TIO) e.V., TO SPITI Interkullturelles Frauen und Familienzentrum, UGRAK Beratung - Kurse - Treffpunkt für Frauen aus der Türkei, und Hinbun Bildungs- und Beratungszentrum für Frauen und Ihre Familien. Open Workshop at the Haus der Kulturen der Welt and Instituto Cervantes. Urban actions: August. Exhibition from 9th to 27th August at the Rotes Rathaus, Rathausstraße 15-10178 Berlin, opening August 9th. Sponsored by: Senatskanzlei–Kulturelle Angelegenheiten in Bereich Interkulturelle Projekte, Haus der Kulturen der Welt und Beauftragte des Senats von Berlin für Integration und Migration.
2013 | Bundesmigrantinnen- Bilder der Migration im öffentlichen Raum | Nürnberg
Since April 2013. Workshops: Friday 26.04. from 17 until 19 hs in Atelier des Kulturladens Villa Leon and on Samstag, 27.04. from 11 to 13 hs. Urban actions: July. Exhibition: July 2013 in the Villa Leon Philipp-Koerber-Weg 1, Schlachthofstr. 90439 Nürnberg. Sponsored by: Amt für Kultur und Freizeit/Inter-Kultur-Büro der Stadt Nürnberg.
2012 | Unsere neue Welt - Bilder der Vielfalt | Berlin
In cooperation with: 7. ISS Tempelhof-Schöneberg - Vörderverein der Werner-Stephan-Oberschule e.V.
The students created through various forms of artistic expression, their "Images of Diversity", and on the world map they build bridges from their home countries to Berlin. They re discovered through photographs, drawings and collages their school, their home, their neighborhood and their city. Migrantas translated their drawings into three pictograms and printed postcards. Greetings in the various mother tongues on the steps and a large mural in the school show new immigration stories and cross-cultural identity of the new generation in Berlin. Funding: Berliner Projektfonds Kulturelle Bildung
more
2011 | Europa-Kind + Europa-Schule - A visual language of diversity | Berlin's 'Europaschulen'
SESB: Aziz Nesin Primary School (German/Türkish), Joan Miró Primary School (German/Spanish) and the Finow Primary School (German/Italian).
In this project we will be working together with two school classes: one from year 5, and the other from year 6. The project itself will develop out of a dialogue with the school pupils, who come from German and various other family backgrounds. This should lead to the production of pictures highlighting the ways in which inter-cultural self-awareness is expressed in everyday life. How is multi-linguality and multiple belonging experienced when it has been part of daily life since a young age? The process through which individuals develop self-awareness of their own cultural experiences and learn to interpret them positively, is of central importance here. The aim of the project is then to portray this self-awareness in public spaces. This will be done via a fortnight-long presentation on the 'Berliner Fenster' on the city's underground train network. At the same time an exhibition in a central location will be held, and the press and everyone involved in the project is invited to the opening event.
Funding: Berliner Projektfonds Kulturelle Bildung, Fördersäule 1, zweite Jahreshälfte 2011.

2010 | Hier und Dort Heimat - Neue Heimat – Zwischen den Welten | Zeppelin Museum Friedrichshafen, Germany
Between March 5th and April 25th 2010 the Zeppelin Museum in Friedrichshafen exhibited "pictures of immigration at the local, national and international level". On display were "works by artists who live and work in Germany, as well as pieces with a specific focus on the theme of migration". Migrantas provided a number of exhibition pieces and organised a public action: individuals were invited to take part in a 'workshop station', where they were encouraged to draw about their own daily experiences and feelings of 'a new homeland'. By the end of the exhibition migrantas had developed three new pictograms which were then published as postcards.
Action: During the exhibition 1,000 bags printed with the pictogram 'homeland here and there' were distributed.
More information
2010 | Sevilla Plural - Images of migration in urban space | Seville, Spain
This conference and presentation took place on February 11th 2010 and was held at the 'Universidad Internacional de Andalucía' (UNIA). In March 2010 workshops were held in various social centres in Seville which led to new drawings, audio, photos and pictograms to be developed. On March 17th these were then exhibited at the 'Oficina de Derechos Sociales' (ODS) in the 'Centro Vecinal de Pumarejo'. On March 18th, during an interactive art event ('Intervenciones en Jueves') held at the Calle Feria flea market, posters displaying images of migration were put up in the streets, and postcards were distributed during an urban action. This project was part of the 12th international ZEMOS89 festival - 'Microbios, seres vivos diminutos' which was held between March 15th and 21st 2010, together with ZEMOS98, and sponsored by the UNIA.
2009 | Postkarten-Sommer-Aktion - Exhibition held in the Alte Post in Neukölln | Berlin, Germany
Migrantas put a selection of pictograms on display which were printed on postcards and posters. Photos of our projects and urban actions were also on display and were viewable on monitors. Thousands of postcards were also distributed during this exhibition.
2008 | Bundesmigrantinnen- Images of migration in urban space | Cologne, Germany
This was a showcase project undertaken as part of the 2008 Cologne intercultural week, together with the 'Bühne der Kulturen'. It was sponsored by the city of Cologne and held under the patronage of Mayoress Angela Spizig. It included workshops with migrant women, urban actions with pictograms on posters and postcards, and an exhibition in Studio Dumont.
2007 | Bundesmigrantinnen - Images of migration in urban space | Hamburg, Germany
In September 2007 nine workshops were carried out together with women from 20 different countries and cultures. During November 2007 pictograms were designed and then displayed to the public on three posters. These were put up in 70 of Hamburg's underground stations and on around 200 Morris columns throughout the city. An exhibition was held at the FrauenFinanzGruppe's main buildings between November 9th 2007 and January 17th 2008. It was sponsored by the Fonds Soziokultur (Bonn, Germany), the Hamburgische Kulturstiftung, and the FrauenFinanzGruppe-Susanne Kazemieh (Hamburg).
2006 | Interkulturelle Werkstatt - Supporting networks of migrant women and female artists living in Berlin
This was an intercultural workshop which began with the creation of a network of migrant women's associations. Eight workshops were carried out which led to a campaign during which 29,000 free postcards were distributed via 450 restaurants and pubs in Berlin. Similarly 300 bags were also produced. Furthermore migrantas took part in an exhibition entitled 'Stadt der Frauen', held in the Kommunale Galerie in the district of Charlottenburg-Wilmersdorf between November and December 2006. This was sponsored by the state of Berlin (LSK), and the European Social Fund (ESF).
2006 | Bilder bewegen I - Setting interculturality and migration in motion | Berlin
Five workshops were organised which led to a campaign using digital animations for TV. These were broadcast on the TV channel installed on Berlin's underground train network between November 21st and 25th 2006. An installation was also developed for the window display of the 'Galerie im Saalbau' in Neukölln, and was financed by the 'Berliner Senatsverwaltung für Wissenschaft, Forschung und Kultur', and Kulturamt Neukölln. Bilder bewegen II A campaign was developed under the auspices of the 'Ernst-Reuter-Initiative für Dialog und Verständigung zwischen den Kulturen' - a joint initiative started by the Turkish and German ministers of foreign affairs. This led to digital animations on Berlin's underground transport network being broadcast between December 18th and 23rd 2006.
2005 | Integration - Pictures of migrant women in Berlin
Eleven workshops were undertaken with women from 19 different countries. A series of 21 pictograms was developed and exhibited in the 'Galerie im Saalbau' between September and October 2005. Three large format posters were installed in 90 bus stops in the district of Neukölln, and on three billboards in the districts of Kreuzberg and Neukölln. This project was financed by the 'Berliner Senatsverwaltung für Wissenschaft, Forschung und Kultur', and the Kulturamt Neukölln.
2004 | Proyecto Ausländer - Berlin-Buenos Aires 2003/2004
During 2003 a series of 12 pictograms were designed in Berlin. Between December 2003 and January 2004 the pictograms were installed in backlit advertising boards in the centre of Buenos Aires. Seven hundred booklets were published (Asunto Impreso, ISBN 9789505330010) – currently out of print. This project was sponsored by Publicidad Sarmiento.

Cooperation
2014 | Exhitition | Bewegte Räume | OÖKulturQuartier | Linz
On the roof space, which is closed to the public this year, the collective has set up a sign announcing a building site for an Angels' Landing pad for 2015, as next year HÖHENRAUSCH will deal with angels and their doppelgängers.The questions raised on the sign open up a thematic field that ranges from our origins to communication with higher powers, all the way to birth and death.
more
2014 | Exhitition + Conference | Visualization| Diakonie Wuppertal| Wuppertal
Part of the project Migrationsdienste-Unsichttbar. An exhibition for the visualization of migrants in urban space. Free postcards and flyers. From 05.06 to 06.06.2014. Diakonie Wuppertal Ludwigstraße 22 - 42105 Wuppertal.
2014 | Exhitition | Woche gegen Rasissmus | Kulturzentrum Tollhaus | Karlsruhe
During the International Week Against Racism 2014. An exhibiton for the visualization of migrants in urban space. Free postcards and flyers. From 01.03. to 31.03.2014. Kulturzentrum Tollhaus. Alter Schlachthof 35, 76131 Karlsruhe.
2013 | Exhitition + Conference + Workshop | Migration, Identity and Intercultural Dialogue | Bündnis für Demokratie und Toleranz | Berlin
Conference and exhibiton of the posters from 2007-today, workshop wich participants in bags printed the pictograms that represents himself.
more
2013 | Exhitition + Conference | Ich bin deine Nächste | Klagenfurt
Participation in International Migrant Day. Support by: Familienservice der Landeshauptstadt Klagenfurt am Wörthersee | Projektgruppe Frauen | Österreichischer Integrationsfonds | Stadträtin Andrea Wulz | Bürgermeister Christian Scheider
more
2013 | Exhitition | Mut zur Wut | Erinnerung, Krise, Künstlerische Intervention | Berlin
Conference on urban spaces as sites for artistic processes and socio-political interventions and performances.
more
2013 | Conference + Workshop | Spuren der Migration in Kunst | Gmunden
5. Dialogforum - Summer School 2013 Donau Universität Krems Zentrum Für Migration Integration und Sicherheit Schloss Gmunden Österreich.
mehr
2013 | Conference| Berlin Buenos Aires | Erinnerung, Krise, Künstlerische Intervention | Berlin
Conference on urban spaces as sites for artistic processes and socio-political interventions and performances.
more
2013 | Exhibition| Kunst und Migration| Kunsthalle Bahnitz| Bahnitz
Kunsthalle Bahnitz From 4.05 to 15.07. 2013 - Curators: Bodo Rau, Rafael López Borrego andLisa Schmitz. Kunsthalle Bahnitz - Dorfstr.1 - 14715 Milower Land / Ortsteil Bahnitz an der Havel.
more
2013 | Exhibition | Eine visuelle Sprache der Migration | Freie Universität Berlin | Berlin
In the context of the International Women´s Day. An exhibition on the visualization of migrants and their perspectives. From 11.03 to 30.04.2013. Freie Universität Berlin, Habelschwedter Alle 45, Foyer vor den Hörsälen. On the initiative of the zentralen Frauenbeauftragten der Freien Universität Berlin.
2012-2013 | Exhibition - Conference| Gegenwartskunst in Referenz zu Otto Neurath | Künstlerhaus k/haus | Wien
In commemoration to the 130th anniversary of Otto Neurath's birth, art historian Maria Christine Holter and artist Barbara Höller curated an exhibition investigating the significance of Neurath's pictorial ideas for visual arts at present and for global communication. The show focuses on various strategies for using pictograms and pictorial statistic in realizing communicational aims, particularly in the clear and powerful visualization of political, social, global or purely individual agendas. 13th December 2012 through 17th February 2013. Opening: Wednesday, 12th December 2012, 7 p.m.
Cooperations: Austrian Museum for Social and Economic Affairs (founded by O. Neurath in 1924), Institute Vienna Circle at the University of Vienna (IVC). Media cooperation: DER STANDARD.
more
2012 | Exhibition - Conference | Interkulturelle Bildung als Herausforderung und Chance - Eine Schule für alle entwickeln | Ludwigsfelde, Germany
The Berlin Senate Department for Education, Youth and Sience (SenBWF) organized on 21st of March along with the LISUM - National Institute for School and Media Berlin-Brandenburg the conference for teachers of secondary education in order to develop cross-cultural organization of school life and teaching. Migrantas presented their project "Europa-Kind + Europa-Schule". .
more

2012 | Exhibition | Your voices: On Motherhood | International Museum of Women.
Artists, writers, photographers, and filmmakers around the world were invited to submit their creative work about various issues related to motherhood. The online exhibition explors moving work that showcases the feelings, perspectives, and experiences of motherhood from all over the globe. Six pieces were selected by a prestigious international jury as finalists for IMOW's Community Choice Award. Migrantas participates with various pictograms.
more

2011 | 18 December - International Migrants Day | Distribution of free postcards in Hamburg and Buenos Aires
These initiatives are part of the global action of the Immigrant Movement International
Museum für Völkerkunde Hamburg + Mamba.Museo de Arte Moderno de Buenos Aires.
2011 | Exhibition and conference | OBITen - XI JORNADA TÉCNICA about foreign immigration in Tenerife | 1.12.2011
Integration as a shared process | Aula Magna of the Faculty of Economics and Business, Campus de Guajara, University of La Laguna, Tenerife (Spain). Migrantas about "Being a part of urban space: mobility, migration and transculturality"
more
2011 | Metropilitan Award for Integration and Tolerance | Initiative Hauptstadt Berlin e.V.
For the fourth time and under the patronage of the Minister of State to the Federal Chancellor and Federal Government Commissioner for Migration, Refugees and Integration, Maria Böhmer, a renamed jury granted migrantas with the second prize. The ceremony was attended by the Chancellor of the Federal Republic of Germany, Angel Merkel, who gave the introductory speech. The event was held on the 13th April in the atrium of Deutsche Bank, Unter den Linden, Berlin.
more 1 / more 2
2010 | Exhibition | Rethinking Migration in Times of Economic Crisis in Europe - Internacional Conference | Haus der Kulturen der Welt | Berlin
Migrantas put an exhibition on display, which included pictograms, photos and text, as part of this international conference. The convention was organised by Network Migration in Europe e.V., in cooperation with the University of Bremen's Geography Department and the 'Bundeszentrale für politische Bildung' (Federal Agency for Civic Education). It took place between December 9th and 10th.
more 1 /more 2
2010 | Exhibition and conference | MhiC - Museo de historia de la migración de Cataluña | Spain
Between October 5th and December 12th the Museum of the History of Immigration in Catalonia exhibited works of migrantas including original drawings, several series of pictograms, and images of urban actions. The exhibition compliments a presentation by the members of migrantas on the day of the opening and a public action during which postcards were distributed.
more1 / more 2 / more 3
2010 | Participation and urban action | A Festa dos Mundos | La Fábrica de Santa Cristina Cultural Center, Oleiros | A Coruña, Spain
As part of 'A Festa dos Mundos' migrantas participated in a discussion forum, held on August 7th, on cultural diversity and integration. During an urban action 2,000 postcards and hundreds of badges displaying pictograms were distributed to the festival's visitors by four assistants at Playa de Santa Cristina, Oleiros
more
2010 | Exhibition and conference | Conference on intercultural communications and art | Sala Victoria and Filmoteca de Andalucía in Córdoba, Spain.
This conference took place between April 9th and 11th and was organised by 'Córdoba Acoge' with the aim of bringing together and exchanging experiences about intercultural communications and artistic expression. New forms of art and culture were presented which developed out of the processes of globalisation and migration. Migrantas participated with an exhibition and a talk.
more
2010 | Conference | Tuning into Diversity | Millenaris Center, Budapest, Hungary. February 25th and 26th 2010.
This conference was organised by the Hungarian broadcaster MTV and the Dutch NGO Mira Media. Representatives of ethno-cultural minority organisations and media professionals from 20 different European countries were present. The conference aimed to further an understanding of the increasing cultural and linguist plurality present in the European media, to present a forum for discussion and the exchange of ideas, and to strengthen communications between the media and minorities. Migrantas participated with an information desk.
more
2009 | Exhibition | verborgen:gesehen – Bilder gesellschaftlichen Wandels 6 | With the cooperation of the Schader-Stiftung and the Hessisches Landesmuseums Darmstadt | Schader-Stiftung Gallery| Darmstadt, Germany
From October 31st 2009 to January 31st 2010. It accompanied a catalogue of events and an extensive program which included a discussion with the artists from migrantas on January 15th 2010.
Action: 1,000 postcards printed with the pictogram 'Sind wir anders' (are we different) were distributed during the exhibition.
more

2009 | Conference | Do you remember Olive Morris? | Gasworks | London, UK
Between November 21st 2009 and January 24th 2010, Gasworks London organised an extensive program in honour of the civil rights campaigner Olive Morris. This included a series of discussions and talks entitled 'Documenting Migration'. Migrantas was invited to take part in the discussions on December 5th 2009.
more

2009 | Book TASCHEN | Brand Identity Now! Winning brands from around the world | Julius Wiedemann (ed)
Provides an in-depth analysis of the leading brand and communication campaigns from around the world. The 384 page, multilingual edition (German, English, and French), published by Taschen, includes a detailed essay about the migrantas collective. The essay, entitled 'Migrantas Initiative - Hieroglyphics for Democracy - From personal experience to social message', illustrated with pictograms and photos, was written by Enrique Longinotti, an Argentinian professor of graphic design. "Brand Identity Now! Is the principal work of reference in its field."
more

2009 | Book front cover and illustration with pictograms | Unsere Wirklichkeit ist anders - Migration und Alltag | Dirk Lange and Ayça Polat (eds) | Bonn
Migrantas was commissioned by the 'Bundeszentrale für Politische Bildung' (BPB) to illustrate this volume from their 'Perspektiven politischer Bildung' series. A photograph of a migrantas poster was placed on the front cover, and each of the book's five main themes were introduced using a series of pictograms.
more

2009 | Participation in an exhibition | Einmischung erwünscht! 60 Jahre Grundgesetz | BPB in cooperation with the German Historical Museum (DHM), Berlin | Bonn
The German constitution came into force on May 23rd 1949. To mark this anniversary the BPB and the DHM developed an exhibition which was inaugurated on the first night of the 'Langen Nacht der Demokratie' in Bonn, on May 23rd 2009. The exhibition included texts, pictures, multimedia elements and other components which told the story of the formation, history, and development of the German constitution.
The exhibition was divided into 9 sections and migrantas illustrated the part entitled 'Entwicklung der Bundesrepublik Deutschland zum Einwanderungsland'. Migrantas constructed a 'photo wall' which displayed pictures documenting one of our poster actions and pictograms. This exhibition was also on display in numerous other German cities including: Hannover (Ernst-August-Galerie), Karlsruhe (university), Brühl (Fachhochschule des Bundes für öffentliche Verwaltung), Weimar (Atrium), Mühlheim an der Ruhr, and Berlin (Bundeskanzler-Willy-Brandt-Stiftung).
more 1 / more 2

2009 | Participation in an exhibition | man spricht Deutsch | Haus der Geschichte | Bonn
This exhibition focussed on the form of the contemporary German language. Migrantas provided a poster 'Sind wird anders', and pictogram 'Die deutsche Sprache', and their associated drawings. The exhibition 'man spricht Deutsch' was on display in Bonn, in the 'Haus der Geschichte' between Decmebr 12th 2008 and May 3rd 2009, after which it was displayed in various Goethe Institutes in Germany and abroad.
more

2009 | Front cover design | Migrations and Mobilities, Citizenship, Borders, and Gender | Seyla Benhabib and Judith Resnik (eds) | Published by NYU Press at Yale University
The renowned Yale professors Seyla Benhabib, professor of political science and philosophy, and Judith Resnik, professor of law, invited migrantas to illustrate the front cover of their new book. Migrantas illustrated the cover with a pictogram entitled 'In between two worlds'.
more

2008 | Conference | MAS Design Culture | Salon de Recherche | Departement of Design, Design2context, Zurich University of the Arts, Switzerland
Over the last few years the department of design has invited guests from near and far to take part in its 14 day public, interdisciplinary research forum called 'Salon de Recherche'. The aim is to publicly debate research results and methods, which transcend each participant's background. The migrantas collective was a guest at the conference and took part on October 9th 2008.
2008 | Participation in an exhibition | European Governance of Migration - International Conference | Heinrich Böll Stiftung | Berlin
Migrantas was invited by the Heinrich Böll Stiftung to present pictograms, photos and texts from our projects to the international convention entitled 'European Governance of Migration - The Political Management of Mobility, Economy & Security'. The conference took place between September 17th and 19th 2008.
more
2008 | Participation | 'Die Migranten' - Tania Bruguera | IN TRANSIT 08 - Haus der Kulturen der Welt | Berlin
Florencia Young and Marula Di Como from migrantas took part in this one year long project called 'Die Migranten', a project developed by Tania Bruguera, a Cuban-US performance artist. She created a remembrance archive made for, and by, migrants along with its own party, workshops and empowerment strategies.
more
2008 | Internet exhibition | ZWISCHENRAUM - Gallery of Art & Migration | Heinrich-Böll-Stiftung
Migrantas was invited by 'ZWISCHENRAUM für Kunst & Migration' to present our work as part of ZWISCHENRAUM's online gallery. ZWISCHENRAUM focuses on the subjects of migration, refuge, and cultural diversity. Their aim is to provide a space for the transitory re-interpretation of interior and exterior, and the self and the foreign, using the language of painting, photography and literature.
more
2008 | Talk | The opening event of 'Klappe, die Zweite!' | Berlin
Migrantas was invited to share experiences relating to the question: 'How do I think diversely?' This was the opening event of the first country-wide networking meeting held on February 22nd and 23rd, as part of the two-year long project entitled, 'Kulturelle Bildung an Ganztagsschulen. Klappe, die Zweite!' which was organised by the 'Deutschen Kinder- und Jugendstiftung'.
more
2007 | Participation in an exhibition | Messe Import Shop | Meine Deine Unsere Welt - Kulturen in Bewegung | Berlin
Migrantas put its posters and pictograms on display in this exhibition aimed at providing an understanding of the meaning of 'foreign'. The exhibition was held as part of the development policy curriculum for school classes and policy influencers, in cooperation with NGOs from Berlin and Brandenburg between November 7th and 11th. It was organised by KATE – the 'Kontaktstelle für Umwelt und Entwicklung e.V.' (Berlin).
more
2006 | Participation in an event | Border Games Lounge | Berlin
La Fiambrera Obrera, a group of artists from Madrid, invited migrantas to work with them on a presentation and discussion about migration. This took place in Dr. Pong, on February 4th, and was organised by the Berliner Gazette as part of the transmediale 06.
more
Museums: The following museums hold posters and postcards from migrantas in their collections:
Deutsches Historisches Museum, Berlin
German Historical Museum, Berlin

Haus der Geschichte der Bundesrepublik Deutschland, Bonn
House of the History of the Federal Republic of Germany, Bonn

MAMbA Museo de Arte Moderno de Buenos Aires
Museum of modern Art of Buenos Aires

since 2008
Travelling exhibition | Wanderausstellung


This travelling exhibition presents the results of the numerous socio-cultural projects which migrantas have undertaken in Berlin, Buenos Aires, Hamburg and Cologne since 2003. Bilingual texts and numerous images are used to explain the work we have done together with hundreds of migrant women. The exhibition focuses on the unique process through which sketches are developed into creative pictograms and how migrantas uses them to express and make visible the everyday experiences and feelings of migrant women.
The exhibition is suitable for congresses, conferences, and symposia on migration and integration, as well as for display in public institutions and is accompanied by a presentation given by members of the Kollektiv migrantas.
more



Press | Click on the Projects titles to read or listen


Bundesmigrantinnen | Images of migration in Germany's urban space

After completing our highly acclaimed projects in Berlin, migrantas successfully expanded to other cities in Germany, including Hamburg in 2007 and Cologne in 2008. By making contact with local government representatives in numerous places, migrantas began developing a network which enabled us to further our socio-cultural project 'Bundesmigrantinnen – Bilder der Migration im öffentlichen Raum'. Pictograms which reflect the feelings and daily lives of migrant women not only highlight many of the often quite local trends in the participants' migrational and cultural backgrounds, they also depict the specific perceptions and realities of life in Germany's various cities and regions.
We would be very happy to work together with individuals from other cities, local government, and social or cultural institutions in order to continue our project, 'Bundesmigrantinnen – Bilder der Migration im öffentlichen Raum'.
Contact: migrantas@yahoo.com
--------------------------------------------------------------------------------------------------------------------------------------------
migrantas team



The migrantas collective receives no funding for its day-to-day work. Instead, the collective´s work is made possible through the commitment of its freelance members. The diverse projects undertaken by migrantas, as well as those in wich the collective participates, rely on direct funding or funding provided through partner organisations. Although the actual form of funding granted depends on the location and purpose of each project, it always remains strictly project-based. migrantas has received funding from various institutions, and in the following, these organisations are clearly stated alongside the relevant projects.
Marula Di Como (graphic artist) has been using pictograms as a means of artistic expression since 2000, in
Buenos Aires worked together with Florencia Young (graphic designer) on projects for the Goethe Institute
such as 'El futuro está en el papel pintado de la Bauhaus' in 1997 and 'Des- Límites, Valle del Riachuelo
Matanza' directed by Prof. Matthias Sauerbruch in 1998. This last project was also on display in the 'Di Tella
Institute', and was chosen by the curator, Catherine David, for the exhibition 'City Editing', shown at the Proa
Foundation in 1999 in Buenos Aires.

Marula and Florencia met again in Berlin in 2002 and started "Proyecto Ausländer". Between December 2003
and January 2004, an initial series of pictograms was shown on advertising hoardings in the center of Buenos
Aires, Argentina, drawing attention, in the public arena, to an unpalatable fact of life in the city: looking
at the problems of immigrants as if through a mirror and recognizing the anxiety of those who have been
forced to emigrate, as has happened to thousands of Argentinians since the crisis of 2001. The communicative
effect of the project was such that its creators decided to invite the sociologist Estela Schindel to broaden her
personal perception to encompass the entire immigration phenomenon in Berlin, and extend the invitation
to hundreds of women from different cultures and origins. By 2005, Migrantas had begun to take shape. In
2006 Irma Leinauer (urban planner) joined the collective, as did Alejandra López (journalist) in 2007. In 2011
Migrantas has been awarded with the Hauptstadtpreis für Toleranz und Integration ("Capital City Award for
Tolerance and Integration") Initiative Hauptstadt Berlin e.V.

Marula Di Como
Born in Buenos Aires, Argentina in 1963 and has lived in Berlin since 2002. She is an artist, and has been exhibiting both on her own and with other artists since 1987 in dfferents formats and media, she developed their work in a context marked by the materiality of the tension between image and word, the relationship with nature and the feminine condition in the urban space. Her work can be found in museums, foundations, and private collections in Argentina and abroad.

Florencia Young
Born in Buenos Aires in 1965 and has lived in Berlin since 2002. She studied graphic design at the UBA (Buenos Aires), and has taught typography at a number of universities. She specialises in corporate identity design and multimedia stations, but is also involved in art installations and interdisciplinary projects.

Estela Schindel
Born in Buenos Aires in 1968 and has lived in Berlin since 1999. Dr. sociology.
2005: Integration, 2006: Bilder bewegen, Interkulturelle Werkstatt, 2007: Bundesmigrantinnen Hamburg.

Irma Leinauer
Born in Peiting, Germany in 1958 and has lived in Berlin since 1985. Urban Planner.
2007: Bundesmigrantinnen Hamburg, 2008: Bundesmigrantinnen Köln, 2009: Postkarten-Sommer-Aktion, 2010: Sevilla Plural, Hier und dort Heimat, 2011: Europa-Kind + Europa-Schule, 2012: Unsere Neue Welt.

Alejandra López
Born in Resistencia, Argentina in 1973 and has lived in Berlin since 2001. Journalist.
2007: Bundesmigrantinnen Hamburg, 2008: Bundesmigrantinnen Köln, 2009: Postkarten-Sommer-Aktion, 2010: Sevilla Plural.
Wikipedia:
Lelia Fabiana Perez

Translations
Simon Phillips (En) | Julia Dócolas (Pt) | Paola Telesca (It) | Cecile Belmont (Fr)
Vocational trainees
Take part on the Project Bundesmigrantinnen: Julia Dócolas (2013)
Taken on as part of LEONARDO DA VINCI programme in association with the 'Fundación General de la Universidad de Salamanca': Ana de Dios (2010); Ursula Mateo (2006); Eugenia Carranza (2006); and Neus Torres Bonet (2005), and Erasmus Programme: Emma Anduix (2010)


Migrantas
Marula Di Como | Florencia Young
c/o Di Como - Ebertystraße 19
D-10249 Berlin
migrantas@yahoo.com

Responsible for the content of this website in accordance with paragraph 5 of the German Teleservices Act (TMG § 5): Marula Di Como und Florencia Young.

Disclaimer
Although external links were carefully chosen, we take on no liability nor shall we be made liable for the content of websites linked from this site. The content provided by these links is the sole responsibility of the external content provider.

All rights reserved. This website is protected by copyright in its entirety. No part of this website may be reproduced or published or alteration in any form or by any means, without the prior written permission of both Marula Di Como and Florencia Young. This includes all pictograms, data, texts, graphics, photos, drawings, pictures and all other parts of this website.